The Most Iconic LGBTQI+ Music Idols Of All Times
"The beauty of standing up for your rights is that others see you standing and stand up as well."
- Advice columnist Cassandra Duffy
In celebration of this year's #PrideMonth we've created a list of musicians who have inspired the LGBTQI+ community with their powerful lyrics, cultural context, social actions and individuality.

Freddie is not only a global musical icon, but is considered, by many, as a national treasure for the United Kingdom.
Also read: 20 Minutes That Changed The History Of Music: Remembering Live Aid
When interviewed by NME magazine about his sexual orientation, he playfully responded: "I'm as gay as a daffodil, my dear!" And even if he did not openly talk about his private life, it is well known that he spent the last of his years living with his longtime partner Jim Hutton.
Queen's guitarist, Brian May, also stated in a 2008 interview: "I know that all through his life Fred didn't think that whether he was gay or not was important."
Ryan Butcher, editor of LGBT website PinkNews, also stated: "It wasn't just about sexuality with him; it was about his whole identity and the flamboyant persona he projected on stage, which is one of the main things Queen is known for."
Why he inspires us: Freddie was not only a global rock music icon for the world and an inspiration for the LGBTQI+ community, he was also known for being a huge cat lover, so much that he actually dedicated an entire album in the name of his cats.
Mr. Bad Guy - Freddie Mercury
Psst! If pets inspire you as much as Freddie, check out our latest blog on how animals also love music in our Positive News Around The World.

Best known for being the lead singer and guitarist of the indie rock band Bloc Party, Kele Okereke began his musical career in London, forming his first band, Angel Range during his college years, along with guitarist Russell Lissack, bassist Gordon Moakes and the drummer Matt Tong. The band soon after became Bloc Party and found their first success with their singles "Banquet" and "She's Hearing Voices."
The Love Within - Bloc Party
"The first thing I did when I learned how to play some chords on the acoustic guitar was to write a song. For me it was always, I guess, about expressing myself rather than just imitating somebody else," says Kele regarding his musical career in his interview for The Guardian Labs.
Kele - Closer
Why he inspires us: Despite his full schedule, Kele always shows a generous attitude as a musician and as a loving father, which reflects in his songwriting on his new solo album Fatherhood.

Being a huge advocate for the LGBTQI+ community, Elton John first came out as bisexual in 1972 to the Rolling Stone Magazine, but it wasn't until 1992 that he came out officially as a gay man, also to the same magazine.
Elton John - I'm Still Standing
Embracing his identity was crucial for Elton's personal and musical journey, as the events in his life inspired him to write many songs like "Rocketman," "Your Song," "Someone Saved My Life Tonight" and "The Last Song."
Today Elton is happily married to filmmaker David Furnish and advocating for LGBTQI+ rights in Australia to legalize same sex marriage.
Why he inspires us: Elton founded the Elton John AIDS Foundation in 1992 inspired by the death of his friend Ryan White. Since then the foundation has taken collaborative actions with the US government, creating impact and bringing resources to secluded communities, overcoming the stigma and neglect through advocacy and research.

Liniker is a virtuous singer-songwriter, composer and bandleader of Liniker e os Caramelows, an indie band that originated from Brazil. She is one of the most recognized voices in the Brazilian soul genre and an inspiration for the transgender and Black youth in her country.
Liniker - Zero
After the release of their first EP Cru in 2015, fans learned about the uniqueness of Liniker's non-binary aestetic: mustache and beard with a dark lipstick, earrings, long skirts and turbants that intrigued and mesmerized the public.
"It's beautiful when people stop and talk to me about the matter of my identity representation and how they feel reflected in what I'm trying to express, not only in equality or physical looks, but in the true sense of reflection; letting music be an experience that allows us to talk about our identity," she declares in an interview with Vice News.
Liniker e os Caramelows - Tua | Sofar São Paulo
Why she inspires us: Liniker has always been inspired by love lyrics in her songwriting. Talking about love becomes a resource for facing the hypersexualization of trans women and a way to get acquainted with the public. People of all kinds can recognize themselves with her music.
Did you miss it? watch Liniker perform "Colors" along with the Black Pumas and Slash.

David Bowie has experimented with the socially accepted concepts during his whole career, taking them to the limit in eccentric ways. His career has transitioned from one genre to another, accompanied by different artistic disciplines which developed the creation of character alter egos—an expression of his compositions, work, and tours in his career.
Altough there is no publicly recorded declaration about David Bowie's sexual orientation, only the recording of an interview with journalist Michael Watts for Melody Maker, in which David declares: "I am gay and I've always been, even when I was David Jones." In 1976, he also declared for Playboy magazine: "It's true—I am a bisexual. But I can't deny that I've used that fact very well. I suppose it's the best thing that ever happened to me."
Some people believe that Bowie declared his bisexuality in order to reach a wider audience; whatever the case, one of his alter egos, "Ziggy Stardust," was an inspiration for LGBT youth in the 1970's, with his eccentric glam-rock and androgynous looks on stage
Ziggy Stardust - David Bowie
Why he inspires us: David Bowie's charity work involved supporting causes related to poverty and hunger, disaster and AIDS relief, human rights and actions for disadvantaged children and youth.

Contemporary British singer-songwriter, Sam Smith, became famous when their single "Latch" hit #11 on the UK singles charts, launching their career and leading them to be nominated for six Grammy awards, winning four of them.
One of the most recurring elements in their songwriting is unrequited love, and when "Leave Your Lover" came out in 2014, interviews about their preference started to be the main topic. In one interview they were asked about the man in the video featuring the love triangle and they stated: "I told him about it recently, and obviously it was never going to go the way I wanted it to go, because he doesn't love me. But it was good as a form of closure, to get it off my chest and tell him. I feel better about it."
Sam Smith - Too Good At Goodbyes
Sam Smith has also recently identified as non-binary and made an Instagram post: "After a lifetime of being at war with my gender, I've decided to embrace myself for who I am, inside and out."
Why this musician inspires us: Sam Smith fronted the 'Donate Your Birthday' charity campaign, in aid of children affected by war and armed conflict. Instead of gifts or cards, the star is calling on their fans around the world to help celebrate their 26th birthday by donating money using Facebook's birthday fundraiser tool.

Grammy award-winning artist, Melissa Etheridge, is one of rock music's greatest icons and also an inspiration for lesbian women around the world.
On January 20, 1993 she announced her sexuality to the world at the Triangle Ball, an LGBTQ focused celebration of President Bill Clinton's inauguration. "You're the greatest thing I've seen this year, and I'm proud to say right here, I'm proud to have been a lesbian all my life."
I'm The Only One - Melissa Etheridge
Why she inspires us: Melissa Etheridge founded the Etheridge Foundation, a non-profit organization in support of new scientific research into the causes and effects of opioid addiction.

Andrew John Hozier-Byrne is an Irish singer-songwriter and multi-instrumentalist. His most popular song, "Take Me To Church,'' is of huge cultural relevance; the song specifically talks about homophobia and religious sacrilege composed by two parts: an adoration for the lover and the indictment of the church; the chorus is an explicit sarcastic attack on the churches which condemn and punish homosexuality.
Even if he has not openly spoke about his sexual preference, Hozier reinforces his opinion that sex (whether heterosexual or homosexual, his interviews show) is an act of love far better than being beholden to a religion.
Hozier - Take Me To Church | Live with Jools Holland
Why he inspires us: By releasing his single "Cherry Wine,'' Hozier raised awareness of domestic violence around the world, donating the proceeds of the charity campaign to Women's Aid in the UK.

George Michael started to re-define pop music in the 1980s when forming the group Wham! along with Andrew Ridgeley. By 1982, the group had hit the U.K. pop charts with "Wham Rap" and "Young Guns (Go for It)," and scored an American record deal with Columbia.
When Wham! broke up in 1986, George Michael started a successful career as a solo artist and after 1998 he became an inspiration for the LGBTQ community when he said: "I never had a moral problem with being gay. I thought I had fallen in love with a woman a couple of times. Then I fell in love with a man, and realized that none of those things had been love."
George Michael - Jesus To A Child
Why he inspires us: George Michael had been an advocate for numerous charity activities like donating a stranger £15,000 for IVF treatment and working undercover at a homeless shelter, among other actions.

Starting her musical career as a backup singer for an Elvis Presley impersonator, Brandie Carlile started playing guitar and writing songs at 15 years old. It wasn't until 2003 when Brandi's talent was discovered by Dave Matthews when performing in the Sasquatch! Music Festival.
Regarding her preference she stated: "I came out of the closet at 15 years old, when I was in high school, and I can assure you that I was never invited to any parties. I never got to attend a dance. To be embraced by this enduring and loving community has been the dance of a lifetime. Thank you for being my island."⠀
Right On Time - Brandi Carlile
In a 2002 interview she came out identifying as lesbian and married Catherine Shepherd.
On the red carpet, Brandi told Variety: "I don't think I've ever felt so seen in my life. These nominations have changed my whole life, they have changed my visibility and my ability to represent my community in a way I'll never forget."
Why she inspires us: In 2008, Brandi Carlile founded the Looking Out Foundation, a foundation which amplifies the impact of music by empowering those without a voice, helping organizations that often goes unnoticed.
Watch Brandi Carlile along with Mike McCready in this rendition of Bob Dylan's "The Times They Are A-Changin."

Peter Burns was a singer-songwriter and main vocalist and leader of the band Dead or Alive, known for their top single in 1985 "You Spin Me Around (Like A Record)."
His sexuality and gender, like many other artists, has always been ambiguous. In many interviews he was constantly asked about his sexuality because of his androgynous looks, and he stated: "People always want to know – am I gay, bi, trans or what? I say, forget all that. There's got to be a completely different terminology and I'm not aware if it's been invented yet. I'm just Pete."
There is no doubt that the legacy of Dead or Alive and Pete Burns will remain forever in the history of pop music.
Dead or Alive - You Spin Me Around

Even if Cher herself is heterosexual, her support for and influence on the LGBTQ+ community have been monumental. Her songs became anthems and her iconic fashion inspired generations.
Cher also made headlines when she announced, in an interview, the coming out of her son Chaz Bono, declaring that his coming out was not easy for them but she supported him.
Cher - Walking In Memphis
Why she inspires us: Cher has participated in numerous charity works for children in poverty and armed conflict, the fight against AIDS, the environment and the fight against COVID-19.

Andy Bell is a singer-songwriter and vocalist of the English synth-pop duo, Erasure. The duo had numerous top hits like "A Little Respect," "Love To Hate You," "Always'' and "Blue Savannah," just to name a few.
Although Andy Bell never made his preference public to the media, he talked in an interview with Creative Loafing about the issue of homophobia and how some social groups and instances get shocked when seeing two persons of the same sex sharing a romantic relationship.
He also says that "communication" between the LGBTQ+ community needs to improve "across party lines" and "for lesbians to interact with gay men and vice versa. "We just need to remember that we're all equal in the end,'' he adds.
Erasure - A Little Respect
Why he inspires us: Erasure was one of the most successful music acts from the 80s until mid 90s, achieving 24 consecutive top UK charts and selling over 25 million albums across the globe.

Not only is the Queen of Pop known for her immense musical career, but also because of her activism among the community and creative output.
In the late 1980's very little was known about AIDS/ HIV and Madonna was outspoken about awareness and research. Also in 1990, with the release of her single "Vogue," Madonna popularized "voguing" as the most unapologetically queer of art forms, originating from dance ballrooms in Harlem.
Madonna - Vogue
In 1999, at the Video Music Choice Awards, several drag queens dressed in Madonna's most iconic looks kind of stole the show. At the end of it all, Madonna summed the whole thing up perfectly, saying: "All I can say is it takes a real man to fill my shoes."
Why she inspires us: In 2006, Madonna founded Raising Malawi in support of orphans and vulnerable children, providing them with educational resources, medical care, food, shelter and psychological support.

Rob Halford is the iconic frontman of the hard rock British band, Judas Priest. He has also been considered an icon for the LGBTQ+ community as one of the most visibly and openly gay metal singers after coming out in 1998.
"I think that every gay person has a bigger story to tell than just, 'Hello, I'm out, it's me,'" he declares in his autobiographic book, Confess.
Judas Priest - Electric Eye
Why he inspires us: He is considered one of the best heavy metal vocalists that has ever lived, for his influential and recognizable style, being able to effortlessly alternate between a growl and a falsetto.

Tracy Chapman is a four-time Grammy award-winning, multi-platinum singer-songwriter who sold two million copies of her debut album following her Nelson Mandela's 70th Tribute Concert performance.
Tracy Chapman - Fast Car
While Chapman speaks rarely of her personal life, it emerged in a 2006 interview with The Guardian that she had a relationship with Alice Walker in the 90s. Walker, the famous author of The Color Purple, said in the interview that she had warm memories of their romance.
Did you know? Clarence Bekker has a cover of Tracy Chapman's "Talkin' Bout a Revolution",check it out!
Why she inspires us: Tracy is an advocate for LGBTQ+ rights, gender and racial equality. She also supports numerous AIDS foundations and charity events.

Frontman of the indie rock band R.E.M, John Michael Stipe, is an American singer-songwriter inducted into the Rock and Roll Hall of Fame in 2007.
The American Institute Of Bisexuality states that in 1994, Stipe described himself as "an equal opportunity lech, and that he was attracted to, and had relationships with, both men and women. In 1995, he appeared on the cover of Out magazine. Stipe described himself as a "queer artist" in Time in 2001 and revealed that he had been in a relationship with "an amazing man" for three years at that point.
Stipe reiterated this in a 2004 interview with Butt magazine. When asked if he ever declares himself as gay, Stipe stated: "I don't. I think there's a line drawn between gay and queer, and for me, queer describes something that's more inclusive of the grey areas."
R.E.M - The One I Love
Why he inspires us: In April 2022, Coldplay and Michael Stipe among other artists, donated songs to the EarthPercent's Earth Day initiative, a charity providing a simple way for the music industry to support the most impactful organizations addressing the climate emergency.

Disco music in the late 1970s exploded into pop culture and the Village People made their way to the top with classics like "Y.M.C.A," "In The Navy," "Macho Man" and "Can't Stop The Music."
Aside from their catchy songs, the band was recognized by their costumed personalities and background as a parody of stereotypical American manliness, and a symbol for gay men around the world.
Village People - Go West
Why they inspire us: While not every member of the Village People identifies themselves as homosexual, the group was a strong advocate for gay rights and identified as a gay group.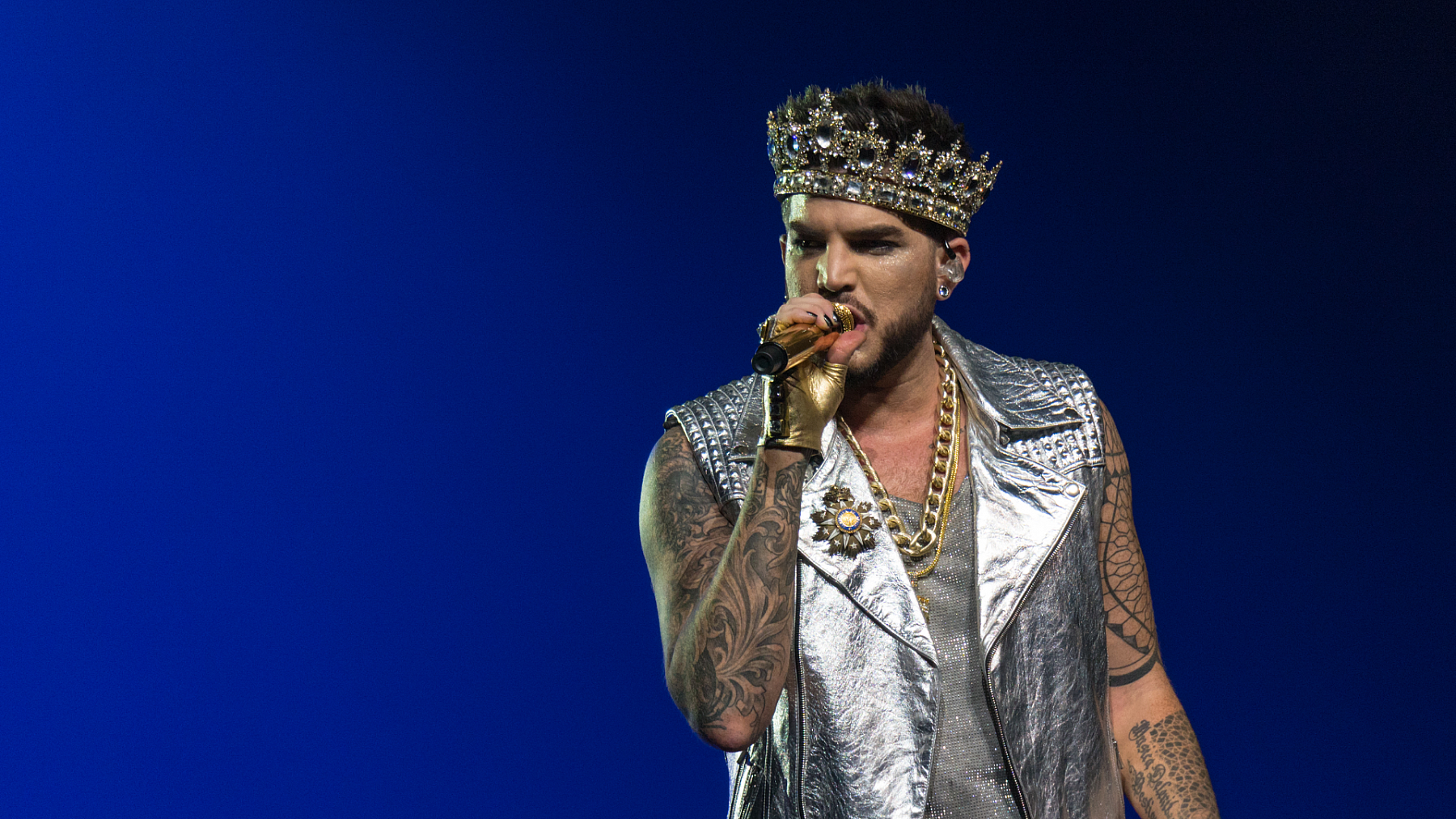 Adam Lambert is an American singer and actor and considered to be one of the best known and influential LGBTQ+ artists in the industry. Lambert rose in popularity in 2009 when he debuted as a singer on season 8 of American Idol, and performed "We Are The Champions" live with members of Queen for the show's finale.
After successfully releasing two albums and appearing on numerous TV shows, Adam began touring with Queen in 2012. Lambert has also performed with Queen at the Oscars and released the singles Feel Something and New Eyes.
Adam Lambert + Queen - We Will Rock You
Why he inspires us: The Feel Something Foundation is a non-profit organization launched in 2019 by Adam Lambert in support of LGBTQ+ human rights.

Boy George (Culture Club)

As the frontman of Culture Club in the 1980s, Boy George caught the attention of producer Malcolm McLaren (manager for the Sex Pistols) for his androgynous style. When the band was finally formed, they scored several big hits including "Karma Chameleon" and "Do You Really Want To Hurt Me?"
In his autobiography Take It Like A Man (1995), he opened up about his sexuality. George's unconventional appearance and demeanor attracted attention and questions about his sexuality throughout his early interviews.
Culture Club - Do You Really Want To Hurt Me?
Why he inspires us: He has supported numerous foundations in support of child poverty and AIDS.

Laura Pergolizzi (artistically known as LP) is a singer-songwriter famous for having written songs like "Love Will Keep You Up All Night" by Backstreet Boys, "More is More" by Heidi Montag, and "Cheers (Drink to That)" by Rihanna.
In 2017, she rose to fame for her single "Lost On You" and since then she is considered one of the references of the pop-rock scene of the moment.
LP's androgynous sense of style caught the eye of the public who questioned her genre. "I've always been gender-neutral, I just don't enforce the pronouns," she declared in an interview after a gig in London, adding that she's equally comfortable being considered a "garden variety lesbian woman." Via GSN.com
LP - Tightrope
Did you know? LP and Waddy Wachtel recorded an exclusive Live Outside for Playing For Change.
Why she inspires us: LP has created her own style in which she uses her vocal range to reach notes as high as her whistling.
Which artists inspire you to express yourself? Let us know in the comments of our social media and always remember that #loveislove.
"Openness may not completely disarm prejudice, but it's a good place to start." – Jason Collins
One Love,
Playing For Change


Become a member or login to comment