Women Musicians That You Should Definitely Listen To (If you haven't yet) | Part 2
16. Lila Downs
Genre: Traditional Mexican music/folk/pop

Lila Downs is a musician and activist with an anthropological vision whose music brings awareness to women, indigenous groups and immigrant causes. Through her activism and music, she incorporates Mexican influences and indigenous languages such as Mixtec, Zapotec, Maya, Nahuatl, and Purepecha. Lila Downs is usually accompanied on her musical journey by her longtime band, La Misteriosa, and multicultural multi-instrumentalists, including Paul Cohen, her collaborator, producer and husband.
Lila Downs - La iguana

She strives to make a meaningful connection with her diverse audiences through her music and performances. "I'm so lucky," remarks Downs. "People who follow our music are from all walks of life, and they want to scratch the surface to know the whys and hows. Every day we get to connect in so many ways."
Watch Lila Downs in our Song Around The World "Mexico Lindo y Querido."

17. Sheila E.
Genre: Rock/ country / jazz

Sheila E. began her professional career as a drummer and percussionist in the 1970s, but her career took an exciting turn when she met Prince backstage after a gig. The singer-songwriter revealed he had been following her career for some time, and the two quickly became friends. Their friendship eventually led to Sheila E. lending her vocals on Prince's song "Erotic City"—a move that prompted her to launch her solo singing career. She went on to have successful hits such as "The Glamorous Life" and "Love Bizarre," and toured the world with Prince. Since then she has performed with the who's who in music including George Duke, Herbie Hancock, Diana Ross, Marvin Gaye, Stevie Wonder, Gloria Estefan, Beyonce, Usher, Hans Zimmer, Marc Anthony, and Jennifer Lopez, to name a few.
Sheila E. - Drum Solo with Prince 1987
Five decades later, Sheila continues to tour, record and use music to create positive change. She is passionate about two things above most: music and helping others in need. Throughout her career, she's been fortunate enough to get to share her story and use the power of music to help those who need it most.
Watch Sheila E. in the new version of our Song Around The World "Higher Ground."
18. Sophia Scott
Genre: Pop/ folk / country
Sophia is a country/pop artist whose personality shines through her relatable lyrics and outspoken point of view. Growing up inspired by Sheryl Crow, James Taylor, and Joni Mitchell, Sophia feels fortunate to have had such a high standard for songwriting from a young age.
Watch Sophia Scott's recent music video "Sweetheart"

Sharing both a unique message and soulful vocal acrobatics, she brings a nostalgic and refreshing take to country music. Her audience has grown exponentially since the December release of her single "She Ain't Me," which continues to receive strong support from Spotify and iTunes. She is thrilled to be releasing brand new music this year with live tour dates to follow up the new project.
Beauty in the Flaws | Sophia Scott

19. Esperanza Spalding
Genre: Jazz/ blues

From performing in Oregon jazz clubs to becoming the first jazz artist to win a Grammy for Best New Artist Esperanza Spalding is a musical prodigy and considered one of the best contemporary jazz musicians. She has received global recognition for her commercial success, unique style, Portuguese musical influences and philanthropic efforts. Her accolades include four Grammy Awards and an honorary doctorate from Berklee College of Music.
Esperanza Spalding - Overjoyed

20. Becky G
Genre: Latin music/ pop

Singer, songwriter, actress, and activist, Becky G, was born for the spotlight and her multifaceted career is shaping up to be nothing short of iconic. The 24-year-old global superstar's achievements include two number one hits on the Billboard Latin Airplay Charts ("Mayores" & "Sin Pijama"), a starring role on "Power Rangers," and guest-starring in Fox TV's Emmy-winning "Empire" series. She has toured alongside Katy Perry, Demi Lovato, J Balvin, Fifth Harmony, and Jason Derulo and has recorded collabs with Daddy Yankee, Maluma, Anitta, Natti Natasha, ZAYN, Bad Bunny, Ozuna, Pitbull, and CNCO, among others.
Becky G - Bella Ciao

The multitalented star launched the "En La Sala" podcast with Amazon Music - live from her living room during the lockdown, and donated $10K to a charity of her choice with every episode.
Becky is currently a brand ambassador for Xfinity Comcast and Michelob Ultra Pure Gold and has successfully released her makeup collections with ColourPop cosmetics, a clothing collab with PrettyLittleThing, and an eyewear line with DIME Optics.
Did you know? Becky G featured the vocals in our Song Around The World "Oye Como Va", a member-exclusive video on our members portal.

21. Cedella Marley
Genre: Reggae
The world first met Cedella as a singing and dancing teenager with The Melody Makers, the Marley sibling group featuring her younger brothers Ziggy on lead vocals and guitar and Stephen on percussion and vocals. For two decades, The Melody Makers toured the world establishing a new generation of Marley musical mystique, as they sold millions of albums and reaped an assortment of prestigious honors, including three Grammy Awards.
Watch Cedella Marley is the 2020 version of our Song Around The World "Get Up, Stand Up."

She is the CEO of Tuff Gong International, the record label founded by her father in 1965, and director of The Bob Marley Foundation, a non-profit charitable organization. Additionally, she oversees Hope Road Merchandising, LLC, a Marley family entity that manages the rights to Bob Marley's name and likeness, and the Marley merchandising conglomerate, House of Marley.
Cedella and Skip Marley - One Love

22. Frankie Cosmos
Genre: Indie rock/ folk / pop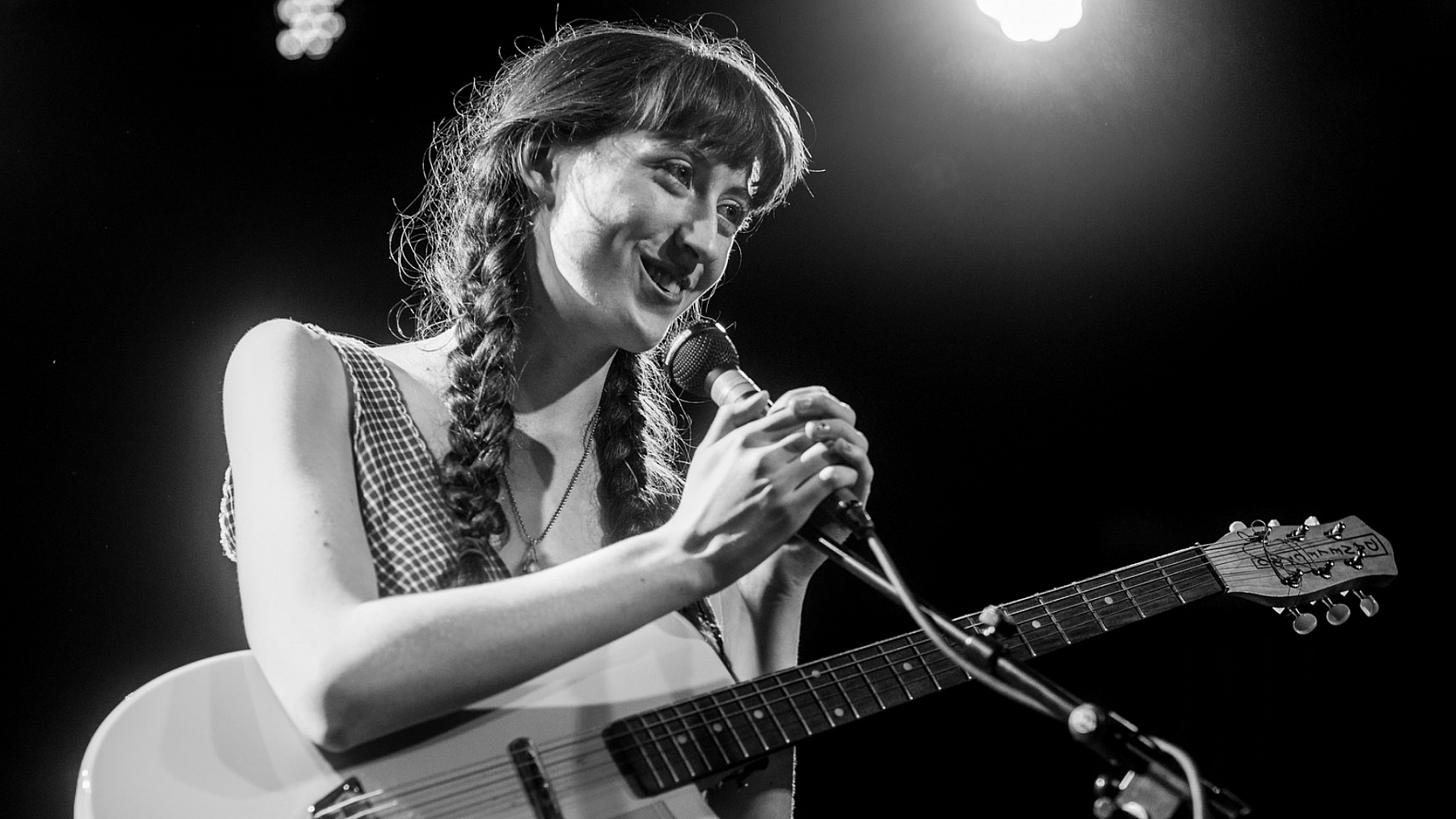 Greta Kline known as Frankie Cosmos is an American singer-songwriter known for her Frank O'Hara poetry-inspired songwriting. Her writing examines relationships from a different perspective other than romanticism; it portrays the beauty of the complexity in relationships and the reality of heartbreak.
Frankie Cosmos - "Outside With The Cuties"

23. Zoé Renié Harris (Zoe's Shanghai)
Genre: R&B/soul
Zoé Renié Harris is the lead vocalist and guitar player for her band Zoe's Shanghai.
Zoe's Shanghai is a band moving & dancing forward with a common voice they redefine over & over again, always together. The sum of its parts - Zoé (vocal & guitar), Landy (drums), Emerick (piano), Alex (bass) - fit organically together and Zoé's Shanghai is no more, no less, than the exciting sum of its individualities, as rich as its influences and intricate origin story.
No Cure | Zoe's Shanghai

Shaping her method to compose, Zoé installed a sort of dialogue with herself - defining how to chisel her thoughts & writing about recurring themes obsessing her: memories, constructions, dreams, death, reality, and its ambiguity.
Watch Zoe's Shanghai Livestream with PFC
24. Joanna Newsom
Genre: Folk/funk/jazz
Starting with her passion for music at a very young age, Joanna Caroline Newsom started playing piano and harp at seven years old. She began her professional musical career as the keyboard player for indie band, The Pleased. Newsom fused vocal-based folk-funk, country and jazz with polyrhythm and Appalachian music influences to mold her musical identity.
Joanna Newsom - Sapokanikan
Did you know? In spring 2009 she developed vocal cord nodules; since then her voice has seen a few changes.

25. Angelique Kidjo
Genre: World music/Afropop/Afroreggae

Angélique Kidjo is a four-time Grammy Award-winning singer, songwriter, and activist with thirteen albums to her name. Originally from Benin, her sound infuses her West African traditions with elements of American R&B, funk, and jazz, as well as influences from Europe and Latin America.
She is the recipient of the prestigious 2015 Crystal Award given by the World Economic Forum in Davos, Switzerland, the 2016 Amnesty International Ambassador of Conscience Award, and the 2018 German Sustainability Award. Angelique also travels the world advocating on behalf of children in her capacity as a UNICEF and OXFAM goodwill Ambassador.
Angelique Kidjo - Dignity
Did you know? In 2020, Angélique participated in a global rendition of Peter Gabriel's song "Biko" as part of Playing For Change's Peace Through Music: A Global Event for Social Justice, a virtual concert and fundraising event.
26. Rhiannon Giddens
Genre: Country/folk/blues

Rhiannon Giddens's lifelong mission is to lift up people whose contributions to American musical history have previously been erased and to work toward a more accurate understanding of the country's musical origins. Pitchfork has said of her work, "few artists are so fearless and so ravenous in their exploration," and Smithsonian Magazine calls her "an electrifying artist who brings alive the memories of forgotten predecessors, white and black."
Among her many diverse career highlights, Giddens has performed for the Obamas at the White House, served as a Carnegie Hall Perspectives curator, and received an inaugural Legacy of Americana Award from Nashville's National Museum of African American History in partnership with the Americana Music Association. Her critical acclaim includes in-depth profiles by CBS Sunday Morning, the New York Times, the New Yorker, and NPR's Fresh Air, among many others.

Named Artistic Director of Silkroad in 2020, Giddens is developing many new programs for the organization, including one inspired by the history of the American transcontinental railroad and the cultures and music of its builders. She recently wrote the music for an original ballet, Lucy Negro Redux, for Nashville Ballet (premiered in 2019), and the libretto and music for an original opera, Omar, based on the autobiography of the enslaved man Omar Ibn Said, for the Spoleto USA Festival (premieres in 2022).

Higher Ground (2020) | Song Around the World
Did you know? Rhiannon Giddens is featured in our mini-documentary The Story of the Banjo, watch her in this member-exclusive mini-documentary to learn about the truth in the origins of this instrument.
27. Courtney Barnett
Genre: Alternative rock/indie

One of the most convincing and popular voices of contemporary rock, Courtney Barnett is one of Australia's most successful musical exports.

Courtney's first two EPs (released in 2013 as A Sea of Split Peas), earned her a Grammy nomination for the Best New Artist in the same year. In the ARIA Music Awards of 2015, Barnett won for the best female artist and the best rising artist. In 2015, she started working with Kurt Vile on a studio album called Lotta Sea Lice" which was published on October 13th of the same year.
Courtney Barnett - Avant Gardener
28. Brandi Carlile
Genre: Country/alternative country/pop/folk

Starting her musical career as a backup singer for an Elvis Presley impersonator, Brandie Carlile started playing guitar and writing songs at fifteen years old. It wasn't until 2003 when Brandi's talent was discovered by Dave Matthews when performing in the Sasquatch! Music Festival.
After the release of her first self-titled album Brandie Carlile, she performed as a supporting act and headliner for artists including The Fray, Chris Isaak, Ray Lamontagne, Indigo Girls amongst others.
Brandie continued to perform live and collaborated with many worldwide artists like Maroon 5, One Republic and Elton John.
Did you know? In 2020, Brandi Carlile and Mike McCready performed a rendition of one of Bob Dylan's classic "The Times They Are A-Changin" in our live online event Peace Through Music.

29. Larkin Poe
Genre: Rock/soul/country

Larkin Poe is comprised of Nashville-based, Atlanta-born sisters Rebecca (lead vocals, electric guitar) and Megan (harmony vocals, lap steel guitar) who named the band after their great-great-great-grandfather, a distant cousin of writer Edgar Allan Poe.
Recorded in Nashville in 2018, in between headline shows, festival dates such as Bonnaroo and Lollapalooza, and a featured guest performer spot on Keith Urban's Graffiti U world tour, Larkin Poe approached their album Venom & Faith with fierce independence. Infusing pop sensibilities into their sound, blending old-school elements of rock and soul with drum samples, hip-hop production elements, Venom & Faith is the perfect follow up to their 2017 album Peach, which was nominated for a Blues Music Award.

Did you know? Playing For Change first heard about Larkin Poe through our friendship and collaboration with Robbie Robertson and his son Sebastian. They are both fans of Larkin Poe and once we checked them out, we too became fans for life.
Come On In My Kitchen | Larkin Poe
30. Taimane
Genre: Multigenre

Committed to following her passion and creating her own sound and style with the ukulele, Taimane Gardner began playing at three years old, regularly performing in public at 10 in her homestead of Hawaii.
From Bach to rock, flamenco infernos to tribal hymns, Taimane focuses her songwriting and performances on bringing feelings and visions to life. By channeling her passion into the ukulele, Taimane busts open the door to connect with audiences. She's garnered a large worldwide following with over 8 million video views and 80,000 social media followers, and the upward trajectory of her career has drawn comparisons to ascensions by several of today's most renowned instrumentalists. With many new doors now opening, Taimane stares ahead at an artistic path filled with opportunities and light.

Did you know? Taimane first met PFC in Los Angeles in August of 2017. Taimane and her band caught the beginning of a BBQ held for some PFC members who had just arrived from Africa. Taimane and her band kicked back, played a few songs, and enjoyed some eats; then rushed across town for her show.
The Moon | Taimane

31. Genevieve Chadwick
Genre: Rock/roots/alternative

PFC first met and recorded Genevieve Chadwick in Australia and the team was struck by her natural talent and contagious spirit. Likened to the great Janis Joplin and referred to as "Australia's answer to Melissa Etheridge", Genevieve is an extraordinary artist and energetic performer. Her gravelly voice and original style of blues and roots have given this singer/songwriter from the Australian South Coast a loyal and ever-growing following.
Did you know? Genevieve Chadwick is a fan of one of Britain's most influential voices, Van Morrison
Days Like This | Genevieve Chadwick

Become a member or login to comment