Playing For Change Receives 2019 Polar Music Prize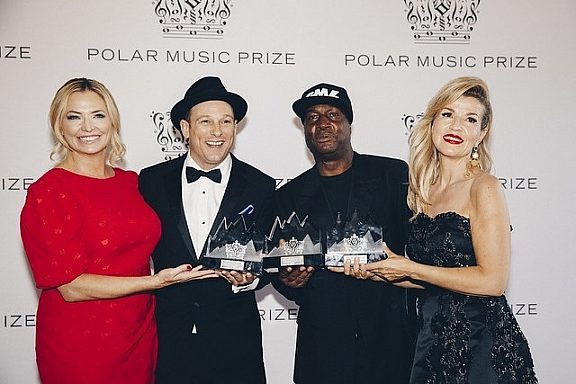 On June 11th, Playing For Change co-founders Whitney Kroenke and Mark Johnson accepted Sweden's Polar Music Prize alongside hip-hop pioneer Grandmaster Flash and German violinist Anne-Sophie Mutter at the Grand Hotel in Stockholm.
Polar Music Prize
Regarded as one of the foremost honors throughout the international music community, the Polar Music Prize is bestowed annually to influential individuals, artists, and organizations who break down musical boundaries and bring together people from all the different worlds of music. First awarded to Sir Paul McCartney in 1992, there have since been more than 50 laureates, including such greats as Joni Mitchell, Patti Smith, B.B. King, Bob Dylan, Ray Charles, Stevie Wonder, and many more. Laureates from a wide range of countries, cultures, and continents have received the Prize in Stockholm from the hand of His Majesty, King Carl XVI Gustaf.
According to the Polar Music website, the prize is "awarded for significant achievements in music and/or musical activity, or for achievements which are found to be of great potential importance for music or musical activity, and it shall be referable to all fields within or closely connected with music". This qualification has taken many forms, from rewarding individuals for outstanding musical innovation, to acknowledging significant careers in music and performance within local, national, and global communities, as well as honoring those for their service to humanity in leading positive change through music.
Each year, the Polar Music Prize Committee organizes the event in coordination with Sweden's Royal Family, hosting various live performances, onstage "Polar Talks" with each of the Laureates, a red (pink) carpet and banquet, award ceremony, and additional pre and post-ceremony celebrations.
In their acceptance speech for the Polar Music Prize, Whitney said:
"Everyone here knows the power of music. That it can not only heal, but motivate. That it can not only give opportunity, but lift us out of that which holds us down. We see it every single day in the work we do with Playing For Change. By using their culture, their community, and their own history to strengthen next generations and build success and happiness. All it takes is music. All it takes is one spark."
To view their full acceptance speech, click below.

Playing For Change
For Whitney Kroenke and Mark Johnson, the honor of accepting the Polar Music Prize on behalf of the Playing For Change Movement cannot be understated. Yet, to them, the accomplishment goes far beyond their work as co-founders, and is a reflection of the worldwide support and appreciation that has fueled the organization for the past 15 plus, years. Playing For Change could not have become what it has without the generosity of thousands of musicians, the dedication from countless individuals and partners, and the belief from millions of human beings around the world that we are all connected through music.
In speaking with the co-founders about the Polar Music Prize award and ceremony, they had this to say.
Whitney: To have a music movement, a music project, honored alongside heroes of ours that inspired us and Playing For Change was really, really humbling.... to me it means that the "small" musicians are being seen and heard, and being recognized, and that is SO exciting because it means people are paying attention to each other!
Mark: I felt proud for all the people and communities who have worked so hard to support our project around the world and I was especially honored for PFC to be in the company of so many legends and musicians who have inspired us in so many ways.
Are there any notable past laureates that you are honored to share the stage with?
Mark: So many of my musical heroes are included, too many to list but my new favorite is Grandmaster Flash!
Whitney: YES!!! All of them! But I was especially blown away by being in the company of Bruce Springsteen—I'm a huge fan!
What does the Polar Music Prize mean to you?
Mark: During our first trip recording and filming street musicians in New Orleans back in 2001 we met a percussionist named R1 who told us "Music gets to the sentiment behind the words…" and I always loved that perspective of music as a window into something deeper. The Polar Prize is similar as they are recognizing the sentiment behind the process of making music and spreading music education. It explores a deeper understanding of where we are coming from and where we are going with Playing For Change.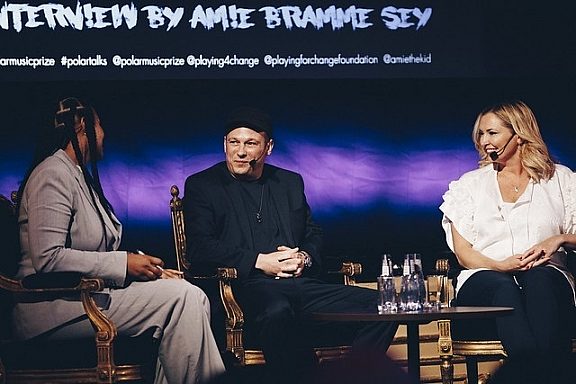 Can you describe what took place at the ceremony in Sweden?
Whitney: It was incredible! First, we walked the Polar Prize "red (it was pink this year!) carpet outside the Grand Hotel. Upon entering, we were ushered to a room for private cocktails where we met the Swedish Royal Family. After the pre-ceremony cocktails, we were escorted into the theater, where we were seated in the front row along with Grandmaster Flash and Anne-Sophie Mutter (the other laureates). The awards ceremony took place, a video of our work was shown and then we accepted the award for PFCF on behalf of all of the musicians, staff, program coordinators, friends who have been a part of our work for the past 18 years. It was extremely emotional, and very surreal, to accept this award from the King of Sweden! And in a room filled with such a rapt, passionate audience.

As an organization dedicated to changing lives and connecting the world through music, how do you hope to double down on your mission following this international achievement?
Mark: Fortunately for us Playing For Change was always a combination of a big global idea combined with a mission to make deeper personal connections and focus on one person, one child at a time…This rhythm gives us a chance to expand what is working and continue to grow our project while also maintaining deep personal connections with everyone we meet along the way.
How will the Polar Music Prize award support the Playing For Change Foundation and organization as a whole in the years to come?
Whitney: Well, first of all, the cash award of 100K is going to be a massive help in sustaining our current programs. We are excited to put the award funds to work immediately to guarantee that the work we have been doing in each program will be continued through the next several years. We will also be using the international platform of the Polar Prize to leverage new relationships into expanding our reach globally.
To Mark and Whitney, thank you for your years of dedication to Playing For Change. To all those who love and support the Playing For Change Movement, thank you for helping to make their dream a reality for all of us.
One Love,
The Playing For Change Team

Become a member or login to comment