Musician Spotlight | Keturah
From the warm heart of Malawi, Africa rises Keturah, a 27-year-old virtuoso arriving to the world stage with her self-titled debut—a 10-track odyssey chronicling Keturah's journey from the tiny remote home village of Monza to the shores of Venice, California.
Kwanumkwanu | Keturah | Mark's Park | Playing For Change
Having never stepped foot on an airplane, let alone leave Malawi, Keturah's 30-hour trip proved to be a significant leap forward in an artist's journey that began on foot.
Khalidwe- Keturah ft Giddes Chalamanda
Get to know the story of Keturah's musical journey from the beginning!

As a child, Keturah first realized her musical potential on walks through her village in Malawi, Africa with her uncle. He'd strum his guitar and sing ballads while she watched and listened until gaining the confidence to join in with her own melodies.
She began to form a connection with her community that had long been elusive, since as a child, she mostly kept her talents to herself, often feeling more like an elder than a friend to her peers.
She found solace in her thoughts or the memories of her mother, who often sat her down to share her wisdom through telling her stories. The two were best friends until she passed away when Keturah was just 13. Having already lost her uncle, Keturah turned to music as a way of carrying forward her family's message of storytelling and music.
Achisale- Keturah
Determined to reach a larger audience, Keturah set out on foot this time for Blantyre, Malawi's second largest city, where she hoped to find a recording studio. She met a local producer who was so impressed by her voice that he offered to record her for free. Keturah put down one song that eventually made its way onto the radio, launching her music career with releases that empower listeners to connect their Malawian identity as a way to realize their own power. The attitude resonated and Keturah earned the nickname of "Naliyela, Local Girl" as she rose to the status of Malawian celebrity.
Her talent soon caught the eye of French honorary consul Luc Deschamps, who runs the Jacaranda Foundation, a Malawian school for orphans and its cultural center.
Deschamps soon recognized her potential and connected her with Harlan Steinberger, a producer and director of Hen House Studios, an independent music label and recording studio, churning out roots world music in Venice, California.

Steinberger said: "She is a wise, old soul with a voice and talent that transcends. Our goal is to make an album rooted in Malawi musical culture with some Southern California overtones."
Jacaranda Cultural Center and Maison de la France arranged for Keturah to travel to Los Angeles and record at Hen House in July of 2022. She arrived with voice notes featuring roughly sketched melodies over a lo-fi guitar, letting Harlan mold things from there.
How Playing For Change met the "Local Girl."
Harlan hoped to elevate the demos into anthems by calling in Playing For Change co-founder Mark Johnson, surrounding Keturah with an all-star cast of Playing For Change musicians, including PFC Band members Jason Tamba and Mermans Mosengo, bass player Kaveh Rastegar (who worked with musicians such as John Legend and Bruno Mars), Magatte Sow (A Senegalese drummer featured on the Black Panther movie soundtrack), seasoned Kora player Prince Diabaté (Read: Inside West Africa's Griot Culture | Prince Diabaté | Mark's Park) Mickey Raphael (Willie Nelson's long-time harmonica player), John Densmore on percussion (The Doors), soul singer Chris Pierce, along with the Zimbabwean guitar legend, Louis Mhlanga, and the young Stones Throw pianist Jamael Dean.
In an interview with The Times Group Malawi Harlan commented:
"We have had a pre-production rehearsal followed by a recording session. It's been amazing. Keturah is a great singer and the musicians I have chosen to be her studio band are amazing."
The album journeys through a dynamic blend of genres in the Malawian language Chichewa, from the lively, upbeat Afro-folk-funk rhythms of "Kwanumkwanu," to the emotive ballads of "Sukulu" and "Chimbalame," the Americana inspired "Nchiwewe" and more lighthearted tracks such as "All The Way from Africa" and "Ku Nyumba." Keturah's exceptional songwriting and powerful vocals are elevated by intricate percussion, melodic guitar lines, subtle backing vocals and horns, creating an eclectic album that showcases her talent as an African songstress ready to make a global impact.
"It is the honor of my life for me and Playing For Change to be involved in Keturah's new album. She has so much talent and brings so much light to the world". - Mark Johnson
Afirika- Keturah

Check out Keturah's interview in between the recording of her new album!
How do you feel after four days of recording?
Working, it's very good. I'm a bit nervous about everything.
I overthink things sometimes
Yeah, me too, that's how I am. I always want to do something good, like perfect, so if someone asks me: Is this good? I feel like it's not good enough; I always want to do more.
Are you happier being a perfectionist?
I feel like maybe I should accept it, but I think I should also accept that not everything can be perfect all the time.
So the concept of perfection in your eyes is different from other people?
You know, I've listened to other songs that were not mine and they sounded perfect. When I listened to these songs I was like: there is no mistake! Everything that it has is on point.
But perfection is not always good because when I listen to certain songs that I thought were perfect, I get bored because of the perfection. A song needs to be imperfect in order to be human.
Do you doubt yourself sometimes?
Yes, people tell me how good I am but I'm not convinced of myself.
Does it change when you have more fans?
I feel like having fans who like my work makes me want to be even more perfect for them. I think to myself: I'm good, I make good music that many people love and I have a good voice but sometimes I do doubt myself, it's normal.
Was Kaveh singing helping you?
Well, he was very good and I liked how he tries to convince me that I'm good enough. He is a good teacher and if there were more people like him back home we would become even better.
There are not a lot of people as encouraging as that?
You know I'm not perfect. Everyone back home thinks that I already know everything and I'm perfect; they don't try to encourage me or remark on my mistakes. They love music but think that I'm already good enough, even when I'm doubting myself. That's why I like what Kaveh is doing, because he taught me that every moment you are recording, you have to be aware that everyone is watching you and you make a mistake, what can you do?
The show must go on…
Yeah, that's it! Mermans and Jason were also encouraging me and that really helped me a lot.
What you saw last night inspired you?
Yeah, I loved everything about last night, the performances, the people, it was amazing.
I think I have to go in and record the other songs, they are also very cool, they are new songs and I'm ready for that.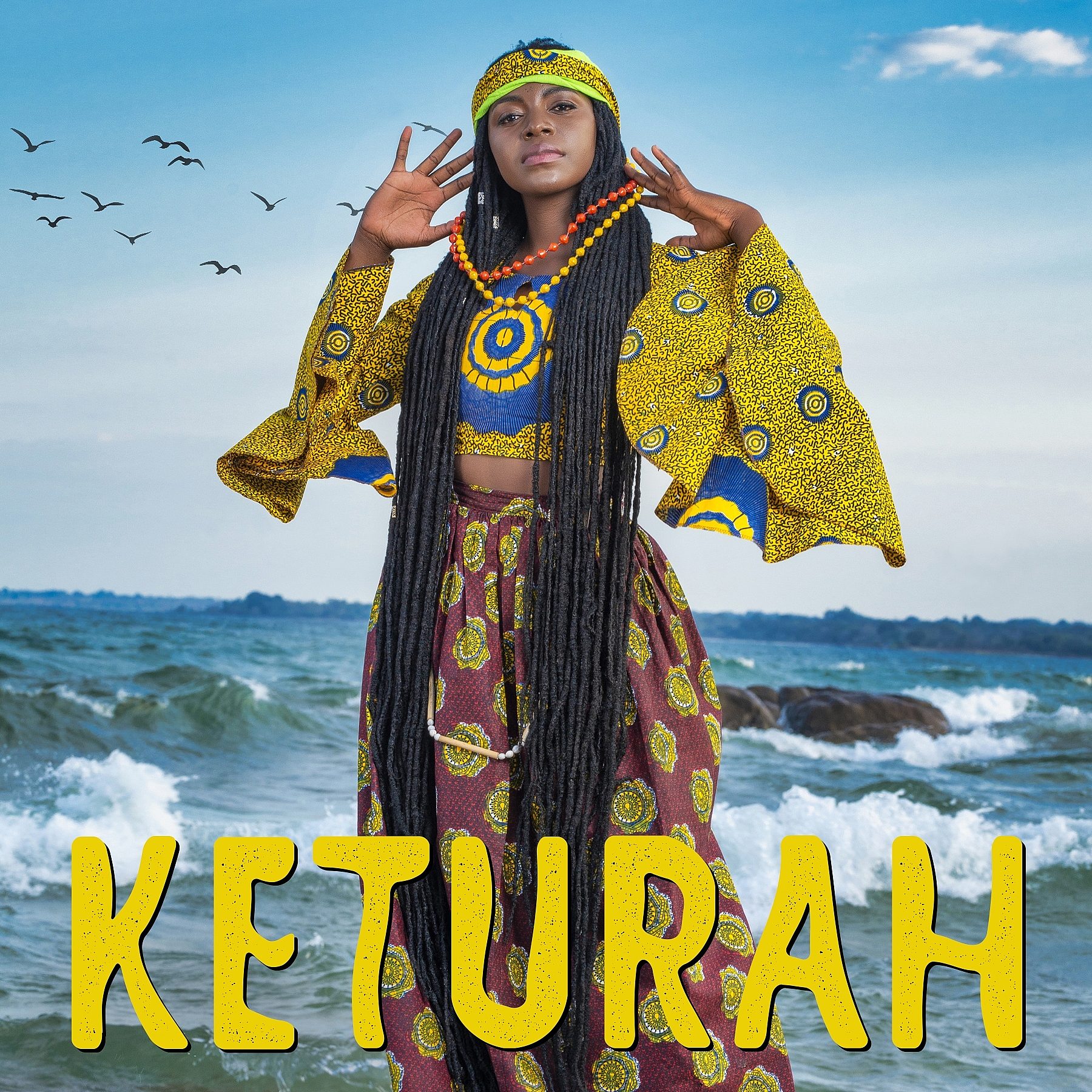 Take a peek inside some of the stories shared about Keturah's journey in the creation of her new album release.
Ku Nyumba
Inspired by a true story.
When I was staying in my home village, an old lady who used to visit me and always asked for help told me that she was living alone. I was concerned that she had no one to care for her or
stay at home.
"Where are your children?" I asked.
She said she had three adult children, one being a doctor and the other two, also
educated, stayed in Blantyre city.
"Why do you come and ask for help when you have children?" I asked, as she started crying.
"My children don't come and see me because they think I am a witch and I will bring them
bad luck," she said.
It hurt me to hear this, as a woman; that her children abandoned her like that. I couldn't imagine how it felt to be isolated by your own kids or abandoning your own mother back in the village.
The song's message is: Always remember where you came from, make sure your mother is doing well and go back home. Be a responsible person and never forget where you came from because your roots are the essence of who you are.
Mvula
I composed this song a long time ago, sitting under a tree when I was distressed thinking about my career. I was about to finish recording my first album. I had worked really hard and saved the little money I had to record in a studio, having two last songs to finish recording that day.
To my surprise, I heard that the producer had gone to South Africa and would not be coming back. I couldn't even reach him on the phone and he took everything with him. I felt really depressed and decided to go for a walk. As I was walking, I found a tree and sat down while it rained.
That's how I came up with this song that talks about people who had it hard in life, how every time they take a step ahead, something tries to push them back. The rain, I thought, represented those falls and how we sometimes end up at the same starting point.
Kwanumkwanu
There is this saying that goes:
However far the stream flows, it never forgets its source.
No matter where you go, home will always be the best.
I wrote this song because I've seen many people who go back to South Africa, for instance, only when they are sick, to remember there are people who care about them back home. However, when they are feeling well, they don't remember their home.
I wanted to share the message that, no matter how far you are, one day you will come back home to your loved ones, so carry them around with you at all times, in your heart.
"Kwanumkwanu" single streaming:
Spotify: Listen here
Youtube streaming: Click here
Apple Music: Listen here

Nchiwewe
In my country, many young people face heartbreaks and some end up hurting themselves, committing suicide or doing things that are harmful.
Sometimes we end up doing these things and we put all the fault on ourselves. We feel guilty if the relationship or marriage ends or we feel like it's our fault, yet we have to understand that sometimes we are not the problem and not everything is on us, it's just how life is.
Even if we try everything to make it work, if we are not with the right person in the relationship, it's not gonna work. The title of the song is related to this idea that some people are like dogs with rabies, biting people and taking advantage without ever being at peace.
All the Way from Africa
This is a happy song where I express how good it feels to travel - and I introduce myself to people. I invite them to come and visit my country, to see the beauty of Malawi and of Africa.
Sukulu
In Africa there are so many people that think that, instead of sending a child to school, it is better and easier to marry them off. I remember that one day when I was in school in Mangochi, Malawi, I visited a friend and we were sitting and having a conversation with another group of young women. The group was talking about a married woman and called her so she could join, to my surprise it was a very young girl about 12 years old that came out of the house.
After she left, they told me a man had come to her parents when she was three years old and gave them money, saying he would return and marry her when she grows up. He was an old man and I was surprised and saddened by the fact that instead of sending their daughter to school, they gave her to this man and destroyed her future.
This song is about keeping girls in school and making sure they have a bright future and that their rights are respected.

Become a member or login to comment